A Helping and Hopping Hand
Second Street Brewery and the Santa Fe Conservation Trust partner for a frothy approach to land preservation
The next time you find yourself enjoying the Dale Ball Trail, the Santa Fe Rail Trail, the pristine view from Arroyo Hondo, or the unfettered, star-studded night skies in and around Santa Fe, perhaps take a moment to reflect on the amount of time, money and hard work (and perhaps a bit of politicking) it takes to keep those treasures safe and sustainable. Read the SF Reporter article »
---
Boneshaker Special Bitter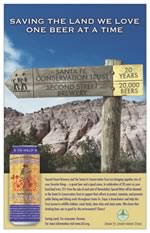 Saving the Land We Love One Beer at a Time!
Second Street Brewery and the Santa Fe Conservation Trust are bringing together two of your favorite things – a great beer and a good cause. In celebration of 20 years as your local land trust, 25¢ from the sale of each pint of Boneshaker Special Bitter will be donated to the Santa Fe Conservation Trust.
Join us for a pint of Boneshaker Bitter until we reach 20,000 pints!
ASK FOR IT BY NAME.
Click here to view the PDF [3.4 MB]
---
Santa Fe Conservation Trust
Saving Land. For Everyone. Forever.
New Mexico's stunning, untouched landscapes—the life–supporting lands essential for healthy wildlife, clean air, pure water, and food–producing soils—are rapidly disappearing. The Santa Fe Conservation Trust is helping to create a network of natural, open lands in and around our communities, forever protected for all living creatures. By providing landowners with tools to place their lands into voluntary conservation status, we now oversee protection of more than 34,000 acres in northern New Mexico.
We're your local land trust, dedicated to preserving the spirit of place among the landscapes of northern New Mexico. We protect open spaces and critical wildlife habitat, create trails, and protect the traditional landscapes of our diverse cultures.
We are a private non-profit organization, supported by the generosity of hundreds of people who share our passion- a healthy environment sustaining a healthy community. Learn more about the Santa Fe Conservation Trust and ways you can join us in our efforts to save the enchantment of Northern New Mexico.