A Helping and Hopping Hand | Santa Fe Reporter, September 23, 2014
Second Street Brewery and the Santa Fe Conservation Trust partner for a frothy approach to land preservation
The next time you find yourself enjoying the Dale Ball Trail, the Santa Fe Rail Trail, the pristine view from Arroyo Hondo, or the unfettered, star-studded night skies in and around Santa Fe, perhaps take a moment to reflect on the amount of time, money and hard work (and perhaps a bit of politicking) it takes to keep those treasures safe and sustainable.

Since 1993, the nonprofit Santa Fe Conservation Trust has been a driving force behind the protection and expansion of our beloved trail systems, wide-open spaces, animal habitats, ranchlands, river corridors and so much more throughout Northern New Mexico.
Read the SF Reporter article »
---
Boneshaker Special Bitter
Saving the Land We Love One Beer at a Time!
Join us for a pint of Boneshaker Bitter now until we reach 20,000 pints! 25 cents of every pint will be donated to SFCT. ASK FOR IT BY NAME.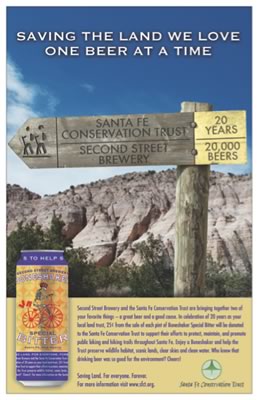 Click here to view the PDF [3.4 MB]
---